←Home—Work—The OG Edition 05



The Online Gallery Magazine
Edition 05

Design, Art Direction
Challenge

Coinciding with Frieze Los Angeles 2022, Issue 5 of The Online Gallery Magazine is dropping this weekend! The team behind the magazine is formed of 3 creative entities: Against Time, Rosie Lee Creative and The Online Gallery. The on-going collaboration see sister companies Rosie Lee Creative and Agains Time working on the design of the magazine, with The OG team(Online Gallery) pulling the strings behind the scenes organising and curating the content that features in each Issue.
"The Online Gallery (The OG) is a digital platform and print magazine that focuses on the intersection of all creative sectors, anchored by contemporary art, and filtered through the editorial lens of curators, artists and community organizers. The mission to create space and support for emerging and established voices across the spectrum is made possible because our community is our content."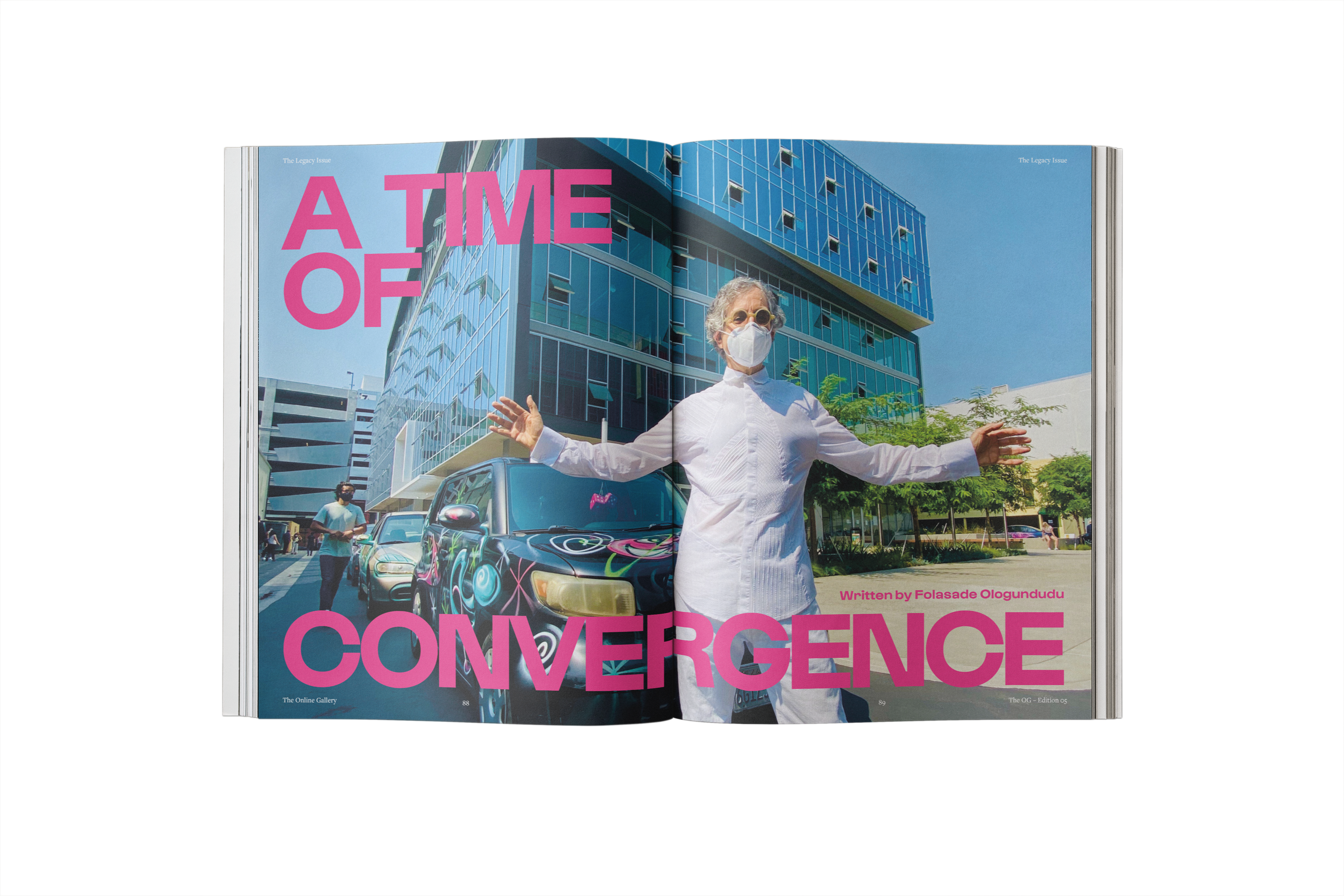 The latest edition of the OG Magazine seeks to shine a spotlight on those who hold 'Legacy', highlighting those who have upheld heritage and traditions while also redefining spaces and catalyzing change.
"Legacies exist as property, money or ideas bequeathed from one individual to another, spanning generations and time. They are lasting impressions or a gesture toward "forever," implying history, longevity and permanence. And yet the events, and actions that make them, are rare examples of ingenuity and innovation — anomalies that break patterns and contradict the notion of continuity, which ironically is integral to the concept of "legacy.""
___

Approach
In a time when global connectivity via the internet creates a wellspring of ideas and information, The Online Gallery Magazine aims to bring forth those with lasting impressions. The magazine dives deep into the work and practice of some huge names such as Mickalene Thomas, Shepard Fairey, Jonathan Mannion and Studio Drift as well as interview content courtesy of Rich Tu who speaks with both The Hundreds and Melody Ehsani.
The talented list of contributors form the inspiration for the experimental layout design, influencing colour and typographic choices that aim to encapsulating certain charististics about the contributors and their work. The evolution of the magazine has lead to each feature having a different identity, this energy and visual excitement is a huge part of the online gallery magazine aesthetic. The design teams curation and design work looks to expertly orchestrate the pace and emotion of the magazine, with each page turn competing to be as visually exciting as the next.
___

Result





Contributors for OG Magazine Issue 5 include:
Humberto Leon, Daniela Elbahara, Jonathon Mannion, Shepard Fairey, Koreatown and Loveclub, Mickalene Thomas, Jeffrey Deitch, First Gen Burden, Ben and Bobby Hundreds, Melody Ehsani, Cedric Adams, Marilyn Minter and Studio Drift
Click here to see the magazine in full!

__

Other Projects